All gifts, large and small, allow Ayiti Community Trust (ACT) to advance its mission.
We are working to transform Ayiti.
Together, We Can Achieve Meaningful Social Impact
Your sponsorship is more than a financial transaction. Our personal relationship with you enables us to support organizations in Ayiti while creating a culture of asset-based giving that empowers communities to elevate their human and working capacity. No matter what your philanthropic goals might be, our objective is to increase the impact of your giving through a strategic partnership and a network of engaged donors.
Sponsoring our signature events helps to convert your marketing and advertising dollars into philanthropic giving. There are various sponsorship levels that can be customized to suit your company's needs. Contact us to become a sponsor
We offer organizations an opportunity to share in our commitment to Ayiti's development by making grants to programs designed to improve human capacity in civic education, environment, and entrepreneurship. Contact us to become a sponsor
Exclusive Philippe Dodard Painting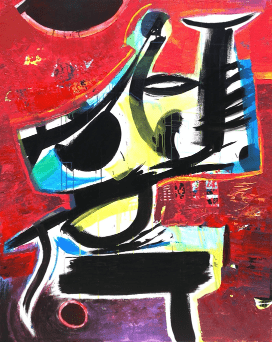 Philippe Dodard "Soleil Noir" 2016
122 X 152cm 
In 2020, renowned Artist and Painter, Philippe Dodard gifted an original piece titled SOLEIL NOIRE. The piece is a trifecta of excellence – a work of art that captures the essence and culture that produced it. We are so grateful to Mr. Dodard for his in-kind contribution to ACT and his commitment to building a sustainable Ayiti.
Due to its interest in Ayiti and in its Caribbean neighbors, The Miami Foundation has partnered with ACT since its inception in 2016. The Miami Foundation accepts donations to ACT on the organization's behalf and ensures that corresponding activities are in compliance with all relevant governing bodies. The Miami Foundation's financial experts provide oversight, stewardship assistance, planned giving resources, and many other services so that ACT can grow and scale with minimal staff and funding. We are proud to partner with The Miami Foundation and appreciate the trust its partnership confers.
"It is a privilege for The Miami Foundation to be a part of Ayiti Community Trust's journey."
- Rebecca Mandelman
Give through The Miami Foundation
Please make checks payable to the
Ayiti Community Trust.
Please mail to:
Ayiti Community Trust
685 NE 126th Street
North Miami, FL 33161
Call us at +1(888) 814-1804  
Text AYITI LEGACY TO 44-321 
Note: If you encounter difficulties giving online, please contact admin@ayiticommunitytrust.org or (888) 814-1804. (Please do not email credit card information)
2020 Nou La Pi Rèd Soirée Sponsors
HAITIAN BUSINESSES
Little Haiti Cultural Center

Luxe Fete

Trillion

Ayasha Media

CMS International Group

Coupet Quality Clinic

Djaiye LLC

Educa Vision

Family Action Network Movement

FANM DJANM

360 Evolution Academy, Inc.

Fokal

Y&V Logistics

Gaskov Clerge Foundation

Sant La

L'étage Magazine

La Paix Bakery

La Petite Pétra

Michelle Tidor Kids Foundation

MultiMed-USA

Anseye Pou Ayiti

Papyrus S.A.

Prosperity Catalyst

U-Turn

Digicel Foundation

The Creative Esquire

PriMordial Herbs

Vivens Media

Tri-Merge

Premium Realty & Insurance Services

Prosperity Catalyst

Prior Family Foundation

Solutions focused

HAITIAN PROFESSIONAL ORGANIZATIONS

Association Medicale Haitienne a L'Etranger

Avanse Ansanm

Haitian Ladies Network

The Association of Exchange and

Development of Activities & Partnerships

Global Innovative Foundation

Haitian American Chamber of Commerce

Haitian American Professional Coalition

Haitian Mental Health Network

Rebati Sante Mentale Inc.

FORF HAITI INC.

Haitian Lawyers Association

Creole Language Institute

Faculté de Travail Social et de Justice Sociale

VSS Hour

FRIENDS OF AYITI

Apollo Bank

Breakthrough Miami, Inc.

Ines Lozano

SMF Law

The Green Family

Help for Haiti
Apollo Bank
Baptist Hospital
BlueCross BlueShield of Florida
Royal Caribbean
Decameron
Green Family Foundation
Alice and Olivia. LLC
Nova Consulting
Sante Nou
Hope for Haiti
FIU Foundation
Sant La Haitian Neighborhood Center
Miami Herald Newspaper
DJ Dieuveny Louis/Toast Vodka