All gifts, large and small, assist Ayiti Community Trust to advance its mission.
Together, We Can Achieve Meaningful Social Impact
Supporting Ayiti Community Trust (ACT) is more than a financial transaction. Your contribution helps towards our mission to support and sustain development innovation in Ayiti in the areas of civic education, environment, and entrepreneurship.
Support ACT mission by making a contribution. No matter what your philanthropic gift might be, our goal is to increase the impact of your giving.
Learn how your company can become a sponsor. ACT has opportunities to support meaningful event sponsorship and programs.
Exclusive Philippe Dodard Painting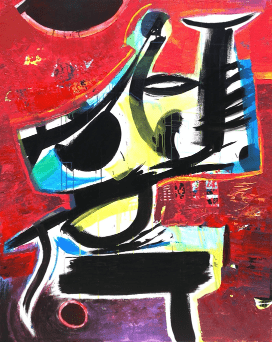 Philippe Dodard "Soleil Noir" 2016
122 X 152cm 
In 2020, renowned Artist and Painter, Philippe Dodard gifted an original piece titled SOLEIL NOIRE. The piece is a trifecta of excellence – a work of art that captures the essence and culture that produced it. We are so grateful to Mr. Dodard for his in-kind contribution to ACT and his commitment to building a sustainable Ayiti.
Due to its interest in Ayiti and in its Caribbean neighbors, The Miami Foundation has partnered with ACT since its inception in 2016. The Miami Foundation accepts donations to ACT on the organization's behalf and ensures that corresponding activities are in compliance with all relevant governing bodies. The Miami Foundation's financial experts provide oversight, stewardship assistance, planned giving resources, and many other services so that ACT can grow and scale with minimal staff and funding. We are proud to partner with The Miami Foundation and appreciate the trust its partnership confers.
"It is a privilege for The Miami Foundation to be a part of Ayiti Community Trust's journey."
- Rebecca Mandelman
Please make checks payable to the
Ayiti Community Trust.
Please mail to:
Ayiti Community Trust
685 NE 126th Street
North Miami, FL 33161
Call us at +1(888) 814-1804  
Note: If you encounter difficulties giving online, please contact admin@ayiticommunitytrust.org or (888) 814-1804. (Please do not email credit card information)
The Ven Pou Ven (20/20) Ambassadors are young professional Haitians and Friends of ACT dedicated to shaping the narrative about Ayiti. Ven Pou Ven Ambassadors are the 20/20 lens of Ayiti's future. Building on the collective wisdom of past trailblazers, 20/20 Ambassadors are working to ensure Ayiti's sustainable development.
Join this new generation of socially responsible Haitians and Friends of ACT who are transforming the future of Ayiti.
The Dessalines Society, are individuals who make a two-year giving commitment to ACT's long-term success. Dessalines Society members believe in preserving Ayiti's heritage and are instrumental in the success of ACT's vision to build a permanent endowment to support Ayiti's long-term development. The Dessalines Society name honors Jean Jaques Dessalines, Ayiti's first emperor, who, after the 1803 Battle of Vertières, declared that all persons on Ayiti's soil would inherit life and liberty.
Become a member of the Dessalines Society and help to bring ACT's most important goals within reach, while inspiring others to support the work ACT.
2020 Dessalines Society Members
Jonathan Vilma • Michele King Soffer • Anonymous Donor
Philippe Dodard • Ghislain Gouraige, Jr. • Dr. Guerda Nicolas • JP Michel • Hannah Brandes
Patrick Martin • Matt Anderson • Dannie Augustin • Bennet Rathbun • Jean Monestime • Pierre Jonas Imbert • Herb Brown • Dave Lawrence • Dr.  Solanges Vivens • Edwidge Danticat
Trabian Shorters • Maryse Penette Kedar • Fidelity Charitable Gift Fund • Kevin Lemke • Proser, LLC • Samuel Ludington • Natacha Janac • Beatrice Dalencour Turnier • Oswald Brandt II • Mireille Chancy Gonzalez • JP Trouillot • Richard Roy • Donald Soffer • Rock Soffer
Samuel Dameus • Nathalie Cadet James